The future is vegan – and Domino's is matching that by announcing that next year, they're planning on bringing out a new pizza that Vegans will be able to devour.
Domino's confirmed the vegan pizzas were on the way in a statement, telling Tyla: "The rumours are true.
"We have been working hard to perfect a vegan recipe with the unmistakable taste of Domino's fresh dough and cheesy goodness.
"We're not quite there yet, but vegan pizza lovers shouldn't have to wait much longer."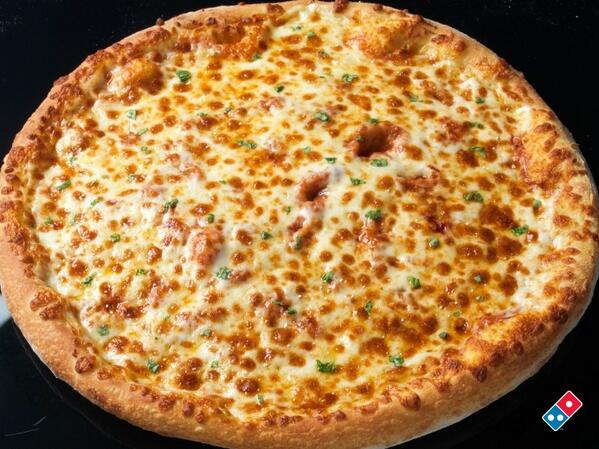 There isn't any official release date – because obviously they're still working on the perfect cheese – but as soon as there is we will let you know! Until then, you may want to check out some of the other exciting vegan food news…
Vegans, just because it's Christmas doesn't mean that you should be missing out on all the footlong extravaganzas.
As you've probably seen over the last few months, many supersized food items have been announced, from chocolate eclairs to sausage rolls, and well – really anything that includes a sausage or a pig in a blanket.
Obviously, it is time for the world to include people who don't always want to go straight for the meat option, and so Morrisons has decided to launch a FOOTLONG vegan sausage roll, so that you two can join in on the action.
Better yet, it'll cost you just one pound. £1 for a giant vegan sausage roll is quite honestly a steal in my eyes, and Morrisons just gave the gift of true happiness to everyone this year.
The vegan sausage roll is officially available to buy in stores and is 'seasoned soya mince that is blended with a mix of herbs and spices then wrapped in golden flaky pastry.' Mmm, sounds delicious to be honest.
It joins the latest exciting vegan offering in the UK, which is the meatless marinara meat-free sub from Subway, which fans have requested since as long as anyone can remember.
Although Subway already offers vegan options in the form of its vegan patty, there's been a long-running campaign for the vegan Meatball Marinara to become a thing. The Meatless Marinara is only launching in select Manchester and Birmingham stores, with hopes it could roll out across the UK in 2020.
A spokesperson told Vegan Food & Living: "We are currently trialling an exciting new vegan product, our Meatless Meatball Marinara, in a number of stores across the UK.
"We are hoping to introduce these nationwide early next year, so keep your eyes peeled and we'll let you know once we have more information!"
Three people on our team have already tried it, and can confirm that it is as delicious as it sounds.
[Featured Image Credit: Domino's]