We've got some news that will 'Central Perk' you up as it looks like a long-awaited Friends reunion is finally edging closer. Despite the acclaimed sitcom bowing out in 2004, barely a day goes by without someone mentioning a possible continuation, followed by one of the main cast shooting it down.
Just days ago, Matthew Perry sparked the idea of a continuation with a cryptic Tweet, and now, it looks like things are full steam ahead. Deadline reports that Friends is coming back for an unscripted special that will lure back the stars for the first time since they closed the door to Monica's apartment.
The one-off is expected to reunite Jennifer Aniston, Courteney Cox, Lisa Kudrow, David Schwimmer, Matt LeBlanc, and Perry as the Central Perk Six. Although details are sketchy, it will be part of the new HBO Max service — where the Friends back catalogue is expected to be a big pull.
No one at Warner Bros. TV would comment, but the site reports each star will be paid $3-4 million to appear in the special. It's also interesting to note that a budget of $20 million would put the project in line with Netflix spending similar amounts of money on comedians like Dave Chappelle, Chris Rock, Ellen DeGeneres, and Amy Schumer.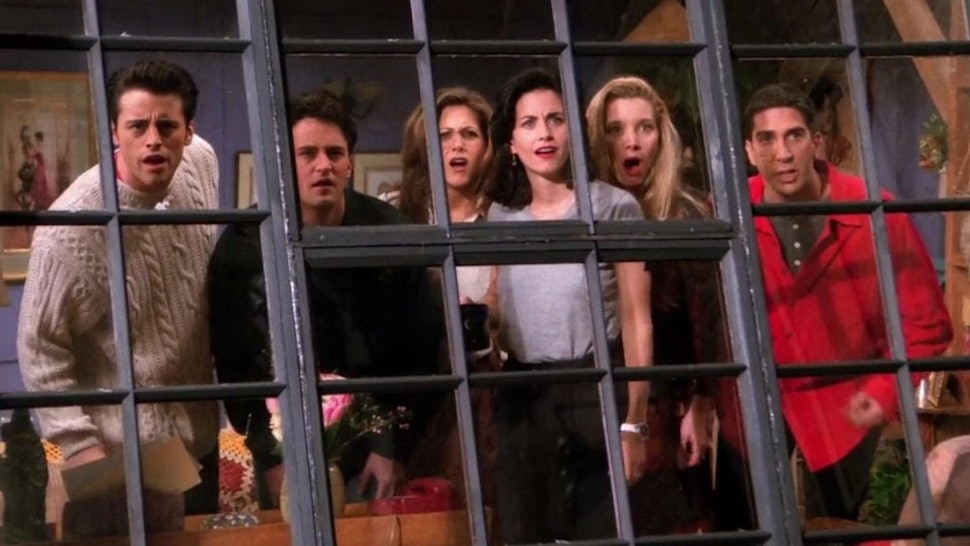 The latest reports are in direct conflict with what David Schwimmer recently said when he seemed to shoot down any chances of a reunion. He put the dampeners on hopes of a reunion with comments made during his appearance on The Lateish Show with Mo Gilligan.
"Well, no. I mean… no," said Schwimmer. "I think we all feel it kind of ended in the perfect way." Matt LeBlanc echoed the sentiment last year, saying: "I understand that people really want to see that reunion but that show was about a finite period in those characters' lives, between 20 and 30," he said.
"To see what those characters are doing now, I think it's almost a case of that the book is better than the movie. Everyone's imagination of what they're doing now is better."
Marta Kauffman, the show's co-creator, had a pretty definitive answer about the elusive reunion too.
"There are several reasons, [it won't return]" Kauffman told Rolling Stone.
"One, the show is about a time in your life when your friends are your family. It's not that time anymore. All we'd be doing is putting those six actors back together, but the heart of the show would be gone,
"Two, I don't know what good it does us. The show is doing just fine, people love it. [A reunion] could only disappoint – 'The One Where Everyone's Disappointed'."
Now, Kauffman and fellow co-creator David Crane are expected to be part of the unscripted special. Considering HBO Max shelled out an eye-watering $425 million to get the rights from Netflix, it's clear the powers that be want to get the most out of their Friends reunion money.
[Featured Image: NBC]