Oh, what's occurin' on the BBC? Good news everyone, Gavin & Stacey is returning to our screens as a binge-worthy box set to help us through coronavirus. As we put our heads in our hands when the lies of Match of the Day are replaced by the controversial Mrs. Brown's Boys, at least the Beeb is bringing back something we can all enjoy.
Now that we're locked up in our homes to wait out COVID-19, the BBC's scheduling is facing a bit of a rejig. Shows like EastEnders have been scaled back and will eventually vanish due to self-isolation, meaning our TV screens might start looking a little bare. Thankfully, the BBC is heading back into the vaults to resurrect some classic shows.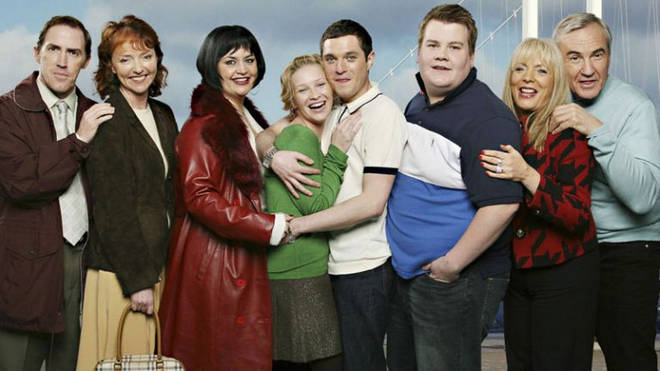 The BBC confirmed that Gavin & Stracey will be back from April 4 to lighten the mood. James Corden and Ruth Jones' award-winning comedy will also be joined by the adorable Outnumbered.
BBC director-general Tony Hall said, "The BBC is determined to do all it can to raise a smile and keep the country entertained during these testing times.
"We have lots of great shows already recorded, but we have also found ways to keep many other shows going so that the familiar faces people love will still be in their living rooms in the weeks and months ahead. I think that is incredibly important.
"The BBC will also deliver a range of virtual events to replace some of those that have now had to be cancelled."
When it comes to Gavin & Stacey, it's a jewel in the BBC's crown alongside the likes of The Royle Family. Running from 2007 to 2010, Gavin & Stacey had a near-perfect record of three seasons and seemed to round off with a happy ending.
As everyone knows though, this wasn't the end of the road for Gavin Shipman and Stacey West. Corden and Jones surprised everyone with 2019's Christmas Special and hints of another new series. The Christmas special was the most-watched TV show on December 25 and reminded everyone why we love Gavin & Stacey so much.
Gavin & Stacey's return is part of a Saturday night  "comedy takeover", with the BBC promising there's more to come. Fans of Peter Kay can also get their laughs on a Friday as the acclaimed Car Share is also making a welcome return. Elsewhere, the BBC is bolstering its iPlayer catalog by bringing back some old favourites.
Given the fact Gavin & Stacey is set to brighten up our Saturdays, it's more likely than ever that this could spur Corden and Jones to write another series. As well as being co-creator of the show, Jones is known for playing the formidable Nessa. After the Christmas special aired, she said she couldn't rule out a fourth series just yet. Well, here's hoping we'll finally find out what happened on that fishing trip!
[Featured Image: BBC]