Although there's been plenty of bad news to mark the start of 2020, one thing that definitely didn't 'suck' was Steven Moffat and Mark Gatiss' Dracula. I know we're only a few days into the new decade, but still, that didn't stop the BBC's glossy horror delivering a twist (almost) no one saw coming in its second episode.
Warning: spoilers for Dracula ahead
If you're ready, let's talk about THAT big moment Claes Bang's fanged foe escaped his underwater tomb and stepped onto dry land in Whitby. With the crew of the Demeter all meeting their maker alongside Dolly Wells' formidable Sister Agatha Van Helsing, Dracula thought he'd escaped his enemies and set his sights on a whole new world with Victorian England as his oyster.
However, jaws were on the floor as Dracula was surrounded by a team of heavily armored mercenaries, a helicopter, and the return of Wells. In a TV twist we'll be talking about for years, Dracula found he'd been taking a watery nap for the past 123 years and wasn't facing Agatha Van Helsing, but her distant relative.
Much like Wells' turn as Agatha, Dr. Zoe Van Helsing was a woman who proved a worthy adversary to the villainous vamp. With a move in time, there was a definite change in tone for episode 3. Although viewers have called out the third (and final) episode for being the weakest entry of the trilogy, there's no denying Dracula found a new lease of life in the 21st Century.
Episode 3 of #Dracula pic.twitter.com/3Po09I8fqQ

— Rob Luxford (@Rob_Lux) January 3, 2020
Me going to tell all my friends to watch #Dracula, but then episode 3 happens: pic.twitter.com/5NRWmlvHMp

— Rima (@rimaahmedcooper) January 3, 2020
The writing and plot lines of #Dracula from episode 1 to 3 #draculabbc pic.twitter.com/3ZA4nd9oEG

— Georgia 🐝 (@georgia_cwood) January 3, 2020
#Dracula 2020:

Episode 1 – Amazing

Episode 2 – Even Better

Episode 3 – pic.twitter.com/7OAxzUzjik

— Sarah Nicholass (@Sarah_Niks) January 3, 2020
So that was two great episodes of #Dracula but ruined with desperate attempt at a modern twist that is struggling to have any meaning.

— james R (@jamesR28697894) January 3, 2020
Episode 1 – Dracula tortures John in everyway possible.

Episode 2 – Dracula kills a ship full of innocent people.

Episode 3 – …Lighthearted adventures in the future?? Wtf is going on?????? #BBCDracula

— pettiest bitch in the galaxy (@planetpunkz) January 4, 2020
I finished it and I want to erase episode 3 of my memory. That was….not good. I can't believe we started with an incredible tale about Dracula to….whatever the hell episode 3 was I'm- #DraculaNetflix pic.twitter.com/oHjpRCxApN

— 𝐀𝐍𝐆𝐄𝐋 🌺 (@Angeliiiiique) January 5, 2020
Still, a modern setting elevates Dracula to become a very different type of show in a bold move away from Bram Stoker's source material. Moffat and Gatiss did much of the same with Sherlock. Unlike the Robert Downey Jr.-led movie series, Sherlock cast Benedict Cumberbatch as the awkward detective and threw Sir Arthur Conan Doyle's legendary characters into a modern setting.
Seeing Sherlock solve murderous schemes and terror plots with the help on a iPhone was a novel way to handle the original text and one that led to Sherlock having a successful run of four seasons — with an unclear future.
In all likelihood, reports of a fractious relationship between Cumberbatch and Martin Freeman — coupled with their jam-packed schedules — means Sherlock is probably going to be on a pretty long hiatus.
Dracula could neatly fill the gap left behind by the BBC favourite. Although both Zoe and Dracula looked like they kicked the bucked in the blood-soaked finale, Moffat and Gatiss would be foolish to let the story end there.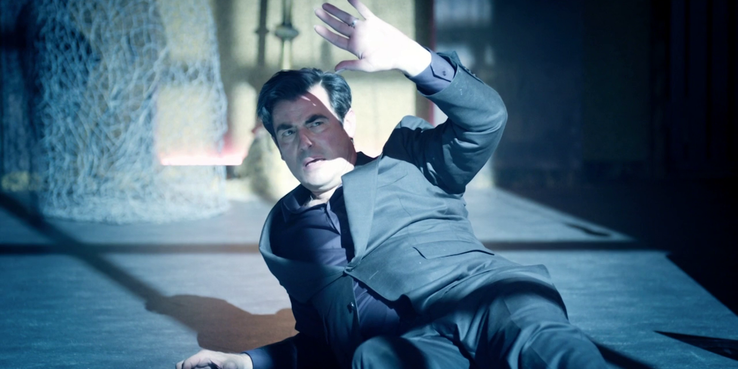 As well as questions over what happened to Mina Harker all those years ago, who's the shady face funding the Jonathan Harker Institute, and why Jack was brought into it all, it's easy to imagine Season 2 as Drac and Zoe team up to solve a bunch of vampiric murders in Blighty.
The writers skimmed over Dracula's adjustment to 2020, and while there was the odd funny joke, you could make it a recurring gag as he tries to come to terms with modern technology and customs. We've already seen him become accustomed to phones, fridges, and Tinder, but who wouldn't want to see Dracula turn into an internet troll with Twitter?
Whether you loved or loathed the episode 2 twist and episode 3 in general, there's a feeling Dracula hasn't quite quenched our bloodlust just yet. For the time being, it's back to our crypts to await any news on if there's going to be a second season or the freshman series has already taken a stake to the heart.
[Featured Image: BBC]