Loudmouth comedian Johnny Vegas is giving his bit back to the community in the midst of coronavirus and helping deliver food to those less fortunate. Known for his stand-up comedy and starring in the likes of Black Books and Benidorm, Vegas is also remembered the face of PG Tips with "Monkey".
In a weird turn of events, Russell Crowe has heralded Vegas a living hero for delivering food to the vulnerable in this time of crisis. Posting on Twitter, Russel Crowe told his followers "G'day folks, how are you doing? This is a message on behalf of my old mate Johnny Vegas." The Gladiator favourite explained how people in St Helens could expect a visit from Mr Vegas."
If you are in the St.Helens UK area pic.twitter.com/Rp7n4yrcgz

— Russell Crowe (@russellcrowe) March 31, 2020
Crowe continued, "If you're in the St Helens area and you're having trouble getting food deliveries from your local supermarket, if you're NHS staff, a key worker, elderly, isolating, vulnerable, call this number – O1744 881881.
"The Steve Prescott Foundation and the Blackbrook rugby league team have set up a delivery service and they can help you out, they can pick up your shopping, they can maybe even pick up your medicine.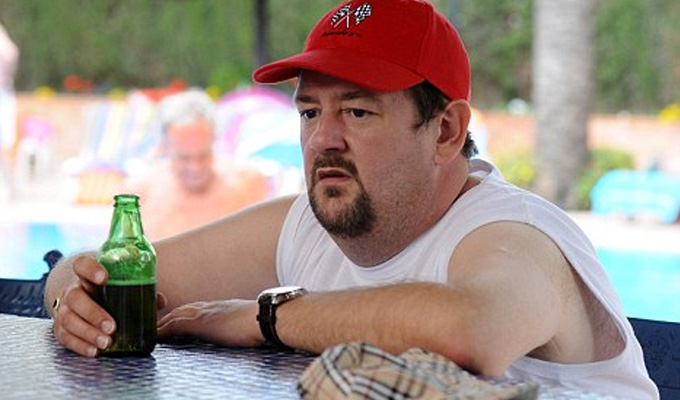 "One of the delivery workers is going be Johnny Vegas though, so expect to lose every second or third biscuit." He finished the tweet with a pretty impressive impression of Vegas. Considering Vegas is from St Helens, it's nice to see he's not afraid to roll up his sleeves and help the local community.
Although the Government has imposed strict rules on the British public staying inside and only heading out to work or when shopping for essentials. However, there's a growing army of volunteers who are spending their free time helping public resources like The Steve Prescott Foundation and the NHS — which are struggling at this time.
Another satisfied customer via@BrookOA @EcclestonArms @StevePrescott1 team. Thanks for your kind donation, here's our safe distance selfie as promised ?#StHelensTogether#StayAtHomeAndStaySafe
& again, thanks @russellcrowe for spreading the word & morale boost 01744881881 X pic.twitter.com/vsq1NDUgvS

— Johnny Vegas (@JohnnyVegasReal) March 31, 2020
Vegas shared a picture of himself on Twitter and proved he's still sticking to the Government's guidelines of social distancing. He also thanked Crowe for highlighting the cause and giving such a big shout-out.
In other celebrity COVID-19 news, there's the sad headline that childhood favourite Paul Chuckle has tested positive for coronavirus. The 72-year-old has given a warning to the British public to follow the health guidelines and stay indoors unless necessary. At least the entertainment industry is banding together to help the general public and showing they aren't so different from the rest of us.
[Featured Image: ITV/Johnny Vegas Twitter]