We hate to say it, but sorry, the reign of the classic pig in blanket has come to an end. That's right, we're no longer satisfied with a chipolata wrapped in bacon, now, Lidl has released a whole Christmas dinner all tucked up in a bacon blanket.
When it comes to the big day, throwing together the various elements of Christmas dinner can be a logistical nightmare. Are the potatoes crispy enough, is the turkey going to be too dry, and how can you make sprouts more appealing?
Thankfully, Lidl has everything 'wrapped up' for December 25. Dubbed the Ultimate Festive Feast in a Blanket, this Christmas cracker comes in at £9.99 and serves five — meaning you can feed the whole family for just £2 per person.
So, what do you get for buck? The Ultimate Festive Feat in a Blanket includes succulent turkey breast alongside the staple sage & onion stuffing, a layer of shredded brussels sprouts and a slathering of cranberry sauce. If that wasn't enough, it obviously comes wrapped in crispy bacon.
Lidl's festive offerings don't end there though. There's also the Deluxe cheese truckles that come in at £1.99 each. The most bizarre is a Christmas Tree-smoked Cheddar. The full range includes Wensleydale with Hortus Gin & Dried Fruit, Christmas Tree Smoked Cheddar made from blended cheddar smoked with Nordic pine, and a Mature Cheddar with Balsamic Onion.
If you're still craving pigs in blanket though, there's plenty to choose from in 2019. Lidl also rolled out a pigs in blanket pizza.
Costing £3.29, savvy shoppers can tatalise their tastebuds with this stonebaked sourdough pizza. Lidl's seasonal showstopper is slathered in a Mediterranean style tomato sauce, topped with red onions, cranberry sauce, and those all-important pigs in blankets.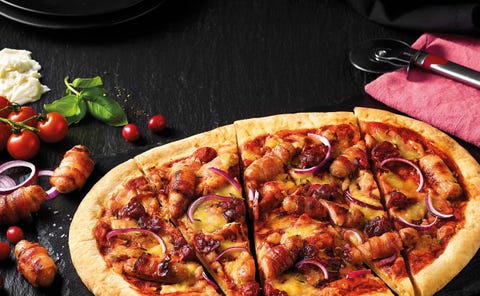 If that wasn't enough, Lidl has a whole range of piggy presents. There's also a Yard-long Pig In Blanket (£4.49), Deluxe 6 RSPCA Outdoor Bred British Pork Stuffing Parcels (£2.79), and Chicken in Blankets made from chicken sausages wrapped in turkey rashers (£2.79).
Elsewhere, you can chow down on a two-metre-long pig in blanket from Aldi. It sounds like the British supermarkets have plenty under the tree this year that are sure to have your tables groaning.
[Featured Image: Lidl]