Marks & Spencer has finally revealed its entire Easter collection and there are some seriously yummy-looking treats to be scoffed.
The headline act is definitely the absolutely adorable chocolate Seth the Sloth (£5), which looks as delicious as it does beautiful.
Other than that, the M&S range features a tonne of different chocolate eggs and tasty treats, as well as appearances from Colin the Caterpillar and Percy Pig.
There's a whole range of different eggs, including milk and white chocolate versions.
There's a couple of 'Easter Sundae' chocolate eggs, with either the 'Fruity Easter' or 'Caramel and Fudge' toppings available for £10 a pop.
Moving into the fancier 'collection' range, there's the 'Extra Thick White and Blonde Chocolate Egg' for £12, which comes with M&S collection engraved on it, so you know it is fancy.
If you're looking for something cheaper, there's the 'Extremely Chocolatey Biscuit Egg' which features a tick milk chocolate shell and rich biscuity chunks.
Elsewhere is our personal favourite – the Flameggo. For just £5 you can get your hands on the pink 'egg' that is shaped like a flamingo. Not sure what the tropical birds have to do with Easter, but we're here for it.
Colin the Caterpillar and Percy Pig both get their own budget range at £5 including bags of sweets to keep the kids happy.
Colin the Caterpillar will also be getting a festive makeover – when he makes his debut as Colin the Bunny!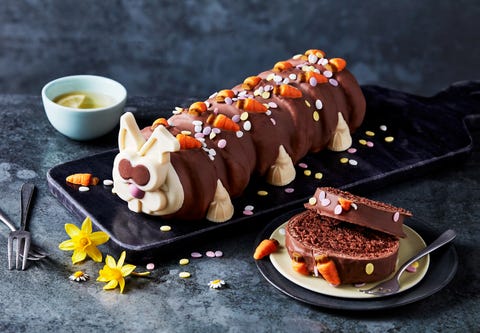 He will cost £10, and features orange fondant flavour carrot and egg-shaped decorations alongside his white chocolate face piece and ears. He comes smothered in the usual milk chocolate coating.
Colin the Bunny will be available from March 31st for a limited time only.
The entire egg-cellent range is now available at Marks and Spencers shops across the country.
Featured image credit: Marks and Spencer