The pop culture event of the year is here — and no, it isn't which queens are entering RuPaul's Drag Race All Stars 5. It's clearly the release of Apple's new emojis. When you get bored of sending eggplant and thirst emojis, or spelling Netflix and chill with a popcorn-TV-snowflake emoji combination, the latest batch of tiny symbols are here to brighten up your life.
Hot off the heels of last year's long-awaited release of ginger emojis, kangaroo, superheroes, and a llama, Apple is back with its most progressive run yet. If you're ready, we're looking at the 117 new emojis and giving the verdict on whether they're 'TOOT' OR 'BOOT'.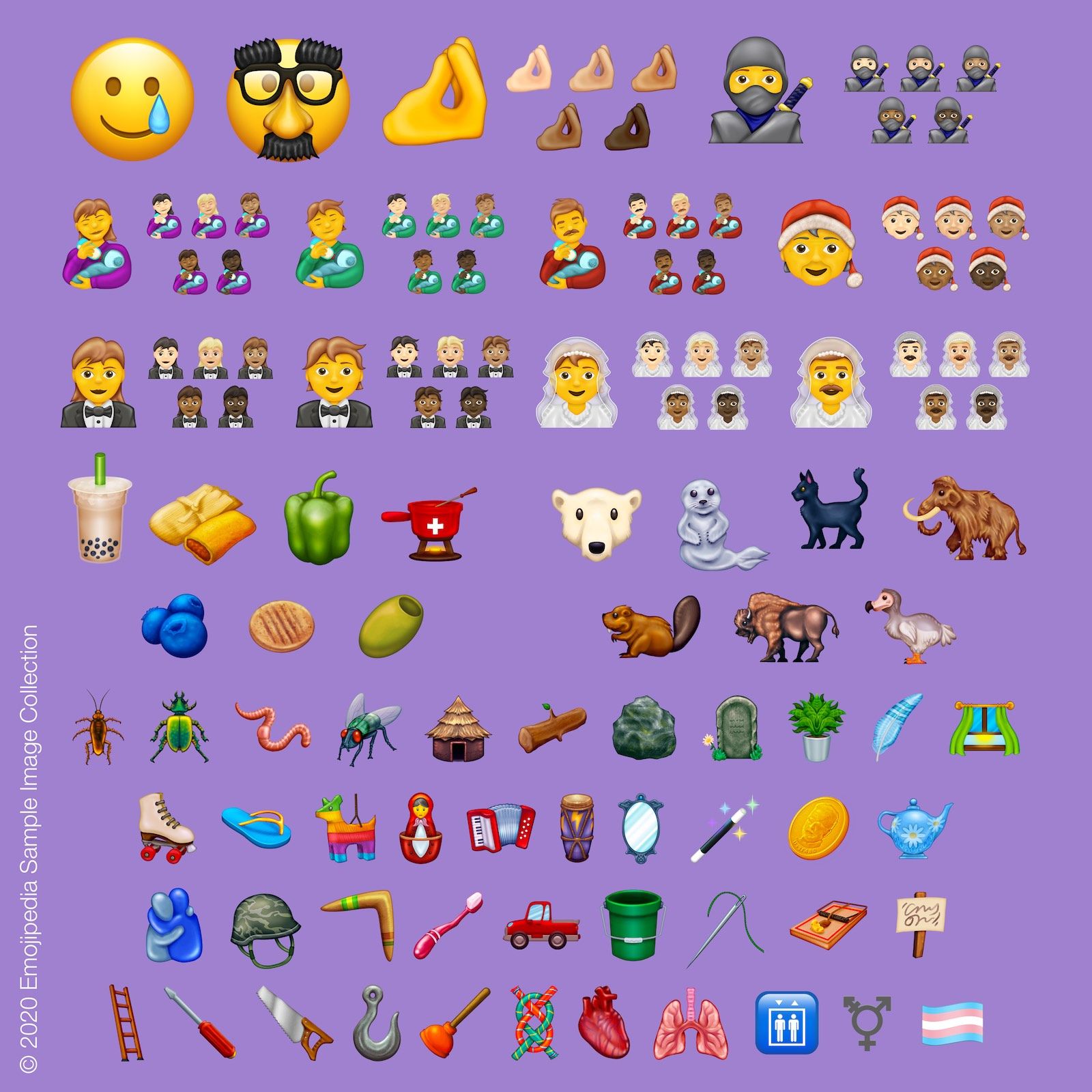 The Good
Emojis can tell so much with something so small. I'm not ashamed to reveal my most-used are sarcastic eye roll, the shrug, side-eyes, and kissing cat. However, here are the best new emojis from 13.0 that are sure to be climbing the rankings in 2020.
Pinched Fingers
If you want to express your rage at a situation, if someone comes to you on the day of your daughter's wedding, or you want to appear a little more cultured, the pinched fingers emoji is perfect for any Italian occasion.
Let's not pretend that every time you press this emoji, you won't be doing your best Marlon Brando impression in your head.
Ninjas
Who hasn't dreamed of being in their own Japanese action movie and suiting up as a ninja? A ninja emoji could mean so much. Whether you're threatening an enemy or planning some covert ops with a friend, the ninja emoji encompasses everything.
Now, you can go full Kill Bill with a range of ninja emojis for all. To be honest, we're surprised it took so long to bring this one to life.
Wooly Mammoth
Not for any particular reason, but I really like the wooly mammoth emoji. When a standard elephant and its grey tone just aren't enough, send over this suped-up and prehistoric version
Along with the new dodo emoji in 13.0, I think Apple should start including more extinct animal emojis. I've often thought there aren't enough emojis to express my love for Jurassic Park.
Same-Sex Weddings
Although you've been able to post same-sex emojis for a while, you can now walk down the aisle in your finest wears with a wave of gender-inclusive emojis. With a woman in a tuxedo and moustachioed man in a veil, Apple is championing "love is love" more than ever in 2020.
We can already see the wedding invites adorned with cute same-sex emojis. I'm picking out my veil as we speak!
Transgender Flag
It's finally here as Apple brings the transgender flag into its emoji family. This a milestone moment of inclusion as the transgender flag joins the rainbow flag following its 2016 inception.
Considering 2019 was such a big year for transgender conversations and inclusion, it's no surprise Apple is moving with the times. Several platforms already have a transgender flag, however, this is the first time you'll be able to find it on your Apple keyboard.
The Bad
For every emoji we love in the latest release, there's another one that's sure to slip into the realm of ones we'd never use. Here's what you'll probably avoid alongside the likes of the floppy disc emoji, the Passport Control one, and aerial tramway — all of which somehow still exist in Apple's world.
Bubble Tea
I don't care what anyone thinks, Bubble Tea is the Devil's liquid. Who really wants to drink a milky concoction and then bite into exploding balls of frogspawn?
Still, bubble tea is still extremely popular and (apparently) warrants its own emoji in 1.30. If anyone sends me a bubble tea emoji with a question mark asking if I want one, I'll be reaching straight for the block button.
Smiling Face With Tear
What fools, did you really think you could replace the laughing-crying face, or improved laughing-crying face tilt emojis? A third way to express you're crying with laughter seems like overkill.
Yes, you could be smiling and crying with emotion, but personally, I don't really see why you'd need this emoji in the already saturated facial expression category.
Fondue
Even though we love a nice pot of bubbling fondue on a ski holiday, when did you last use the unwanted Secret Santa fondue pot sat at the back of the kitchen cupboard?
We can't imagine this one won't be shared much. In all honesty, I can't remember the last time I ever text anyone saying, "Do you fancy coming round for some fondue?" The '80s called, it wants its emoji back.
Lungs
Just want you want to receive while eating your morning cereal — a message with the representation of anatomically correct lungs. As well as lungs, Apple's Emoji 13.0 has also released a very realistic heart emoji.
Unless you're reciting the lyrics to Berlin's "Take My Breath Away" from Top Gun or trying to lighten the mood when it comes to a serious medical condition with your lungs, this one is just plain unnecessary.
Bison
Emoji 3.0's expanding animal roster is an odd one that includes some pretty out-there additions. When someone asks, "What did you see on your safari?", you can insert lion emoji, tiger emoji, elephant emoji, and ah, bison emoji.
I'd like to point out I've got nothing against bison, but the shaggy appearance of this emoji really put me off. It's hardly up there with the new (and sure to be fan-favourite) polar bear.
The WTF
Now, we enter the bizarre world — that alongside dating my exes — has me asking, "WTF were you thinking?" If you thought shaggy bison is the worst of your worries, you clearly haven't seen these frankly baffling emojis.
Anonymous Sign
The 13.0 emoji that's causing the most controversy is arguably one of the most boring. There's been a lot of debate surrounding what's written on this sign. If you're off to an anonymous protest with no real purpose, send your mates this squiggly sign.
Apple hasn't revealed what it's supposed to say, meaning it's up for interpretation. Here at Student Problems, we think it could be any of the following:
"Any, Or"
"Any Owl"
"Cry Owl"
"Come Over"
If you can shed any light on this, please let us know.
Tamale
I'd like to clarify that I LOVE Mexican food, but there's a very valid reason tamale is in the WTF section — and it's not just because you'll struggle to decipher what it is. The reason the tamale lands itself here is because we STILL don't have a nachos emoji.
Seriously Apple, sort it out. We demand recognition for arguably the best Mexican dish of all time. There is a nacho emoji Change.org campaign, but it's only got 535 signatures (so far).
Alien Baby
Despite this one being dubbed as a man or woman feeding a baby with a bottle, it looks like it's been plucked from a sci-fi movie.
Going full Alien, the emoji makes it look like the parent is feeding an outer-space monster with blue eyes. The other option is it could be Jeff Goldblum getting ready for a reboot of The Fly with a baby bundle of joy. Honestly, once you see this one, you'll never be able to unsee it!
---
While there's no official release date for the latest run of emojis, they're tipped to be coming 'soon'. The Emojipedia site said, "Announced today by the Unicode Consortium, the 117 new emojis form part of Emoji 13.0 and will come to most platforms in the second half of 2020,
"Variations of existing emojis now approved for 2020 include a woman or gender-inclusive person in a tuxedo, as well as a gender-neutral person or a man in a veil. These, along with other approved emojis, will be coming to phones later this year.
"Also included in this update is a gender-inclusive alternative to Santa Claus and Mrs Claus, named Mx Claus. This addition is part of an ongoing effort to make more consistent set of gender options across the board, and expands upon the 138 new gender-neutral emojis added in late 2019 as part of Emoji 12.1."
The site goes on to point out that some emojis like the transgender flag and woman dressed in a tuxedo are already available on Twitter. Basically, there's a lot to be happy out with the new line of emojis and we can't wait to test them out. Sadly, there's still no Baby Yoda emoji!
[Featured Image: Apple]