Fans of The Chase– we have some kinda bad news. The Chaseis being replaced by a new Bradley Walsh-fronted show, but don't worry, it's not being taken off air for good.
From next Monday, November 11at 5pm, Cash Trapped will be back for its third series. Now obviously, The Chase currently runs in the 5pm slot on ITV, so it won't be being shown while the Cash Trapped returns for the first time since 2017.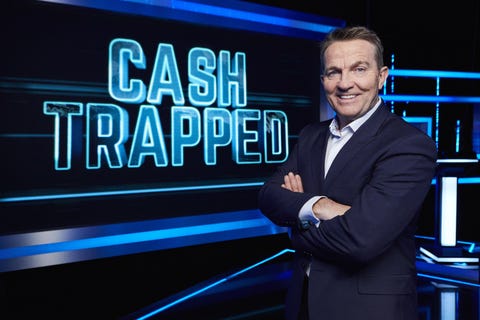 Chaser Anne Hegerty, aka The Governess, confirmed on Twitter: "[Cash Trapped] is only on for five weeks, and this year we have TWO Christmas specials for you!!"
Anna also revealed that both Christmas episodes of The Chase will be celebrity versions, however we are all yet to find out just which celebs will be going up against our well-loved Chasers.
So don't worry, The Chase WILL be back later in the year and we'll all be able to enjoy new episodes. Bradley just has to do something different for a little bit.
Speaking of The Chasers, Mark Labbett has revealed his body transformation and he looks absolutely fantastic.
Showing a pie that was encrusted with his name on the show – The Beast, it was clear to see that Mark had a much trimmer figure.
To be fair, he's had a bit of a rough time over the last year, after he found out his wife Katie had reportedly cheated on him – however he has since decided to give her a second chance and the pair are apparently working on their marriage.
Mark previously revealed in 2016 that he had once turned down the opportunity to appear on ITV's I'm A Celebrity… Get Me Out Of Here! because he didn't think that the diet of rice and beans would be substantial enough for him.
Speaking to The Sun at the time, Mark revealed: "I've been asked to do the jungle but the base calorie intake is about 700. Look at me! If I survived a week I'd drop three stone and cannibalism would be on the cards.
"On Sugar Free Farm the weight fell off me because I couldn't eat enough. Does 'The Chase' need me big? Put it this way, whenever I start losing weight because I'm doing a fitness kick of whatever, the producers go past me and hand me a second portion of pudding."
He also revealed back in 2018 that he had lost 2 and a half stone, and when he was congratulated by fellow TV personality Lisa Riley he was quick to say that his accomplishments were nothing compared to her impressive 11-stone weight loss.
#thechase lost four inches off my chest and six inches off my belly in last six months. So they have bought me a new suit for the show. First target achieved 🙂

— Mark Labbett (@MarkLabbett) February 20, 2018
Well done Mark, but to be completely honest you were great as you were anyways!
[Featured Image Credit: ITV]