Ah, those lazy summers of lying on the grass, reading Goosebumps books, waiting for CITV to come on, and listening out for the ice cream man. The holidays of the '90s and '00s were made up of shovelling your gobs with (now) forgotten sweets that were packed with E numbers, then lying to the dentist about what you'd eaten.
Yes, there are still some crazy confectionary creations out there, but back when food laws were a little more lenient, you could eat anything from bugs to body parts — while sucking on a baby's bottle or ring pop.
Sadly, it didn't take long for governments to clamp down on our favourite retro sweets and try to erase them from our lives forever. With a jolly jog down memory lane, here are 13 forgotten sweets we need back our lives (right now).
Hubba Bubba Bubble Jug
As well as conjuring images of sunny holidays in Spain and gnawing on a roll of Hubba Bubba tape, the gum giant branched out into a different part of the market with the Hubba Bubba Bubble Jug.
Looking like it was plucked from an '80s episode of Miami Vice, the vibrant Bubble Jug contained little powdery nuggets that turned into gum when you put them in your mouth. Why Hubba Bubba felt the need effectively make mountains of pink bubblegum cocaine is beyond me.
It would also come in handy if you were a Borrower and your tiny car ran out of petrol, but apart from that, parents are probably happy to leave the Hubba Bubba Bubble Jug in the past.
Mars Planets
Whether you love or hate the classic Mars Bar, the iconic chocolate got a bit of a revamp with the spin-off Mars Planets. There was a whole galaxy of fun that could be had with Mars Planets, which were effectively Revels without the weird flavours you didn't want.
The trio of chewy caramel, soft nougat, and light crispy chocolate balls meant you never knew what you were going to get. Pick them out one at a time or chuck a whole handful in to get the real taste and texture sensation.
Mars Planets were discontinued in 2007 and later rebranded as Mars Mix before silently slipping off shelves forever.
Campino
No visit to your gran's house was complete without her rummaging in her purse for a Campino. The classic Campino is a hard-boiled sweet that tasted of strawberries and cream, that was to absolutely die for.
Other flavours included raspberry, cherry, blackcurrant, and peach, meaning you could try and get your five-a-day from a bag of these.
However, it turns out that they didn't actually disappear forever, and you can even still get your hands on them in 2020.
Despite the Campino being discontinued in the UK over a decade ago, Canada is still LOVING the hard-boiled treat, and you can get them in bundles over there.
Fruit Pastilles Body Parts
Back when Dr. Dreadful's Food Lab was the top of everyone's Christmas list, Rowntree's was cashing in on our morbid obsession with all things macabre thanks to Body Parts.
The real marketing trick was there's virtually no difference between these and classic Fruit Pastilles — I think there was a pineapple flavour. The company simply moulded Body Parts into anatomy shapes as saw us running to the corner shop to buy these to create our own Frankenstein's monsters.
Bizarrely, although plenty of us remember these, Body Parts were only introduced in 1998 and quickly discontinued in 1999. Professor Pastille had a short run, but ironically resurfaced in an old ad for Ed, Edd 'n' Eddy.
Big Baby Pops
While your mum told you to stop sucking your thumb or acting like a big baby, Topps took it in the other direction with Big Baby Pops. An E number-induced coma came from taking a boiled sweet bottle teat, turning it upside down, and dipping it in sherbert.
With a questionable tagline of "You can lick it, shake it, and dunk it", there was also that memorable jingle and the fact you were the coolest kid on the playground by hanging one of these around your neck.
They can still be tracked down in some dark corners of the internet, but chances are you won't be able to find one in your local supermarket.
Jelly Belly Bertie Bott's Every Flavour Beans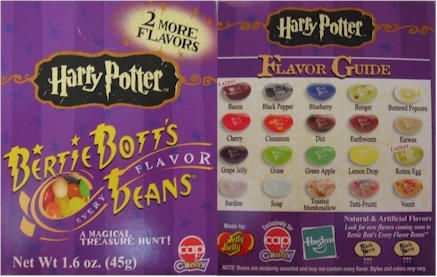 Back when Daniel Radcliffe was just a nipper, Jelly Belly made a lucrative partnership with J.K. Rowling's wizarding world and brought out Bertie Bott's Every Flavour Beans.
Already popular with the likes of Albus Dumbledore, us humble muggles couldn't wait to chow down on a variety of weird and wonderful flavours. Jelly Belly bravely brought the sweets to life and included Vomit, Rotten Egg, and Sardines alongside the likes of Cherry, Green Apple, and Tutti-Fruiti.
Although all the usuals were there in the UK version, I distinctly remember there being a vile horseradish bean. Yes, you can pick up Every Flavour Beans at the likes of Universal's Wizarding World and the Harry Potter Studio Tour, but it isn't the same as the original batch of beans.
Ice Cream Chewits
Whether you love them or hate them, we're including Ice Cream Chewits on the list. When kids were bored of Stawberry, Blackcurrant, Fruit Salad, or even Sour Apple, Chewits took a bold leap with an ice cream flavour.
This vanilla taffy wasn't exactly the most revolutionary flavour combo of all time, but still, ice cream sweets that weren't actually made of ice cream was a clever twist on the existing popularity of Chewits.
They were first rolled out in 1989, canned, and then brought back by popular demand in 2009. In 2016, they made another return to shelves, but sadly, it looks like just aren't meant to be part of the mainstream Chewits family.
Well, at Ice Cream Chewits fared better than the horrific Ice Cream Monster Munch. It's enough to make you shudder at the thought.
Bursting Bugs
If you search any list of retro sweets people want to see make a glorious comeback, Rowntree's Bursting Bugs will undoubtedly be there. Little gummy bugs filled with a syrupy centre, who didn't get messy with Bursting Bugs?
I used to take a pin and squeeze out the innards, but maybe I was just a little OCD. The packaging changed a lot over the years, but Bursting Bugs held out until around the early noughties. Nowadays, you have to watch I'm a Celebrity to get anything close to Bursting Bugs.
While these were particularly popular around Halloween, most of us ate them all year round. In fact, there's such an outcry for Bursting Bugs to return, a Change.org petition has amassed (wait for it) 39 signatures. Come on, get signing.
Wonka Bars
Another fictional franchise that came to life and had parents rolling their eyes as they emptied their wallets was the craze of Wonka sweets.
Considering the Gene Wilder-led Willy Wonka & the Chocolate Factory was decades old and we were nowhere near Johnny Depp in the awful Charlie and the Chocolate Factory, our obsession with Wonka Bars in the mid-'90s made no sense.
My personal favourites were Fizzy Jerks sweets, but they're largely forgotten when compared to the actual Wonka Bars. The highlight of the range was the Scrumdidilyumptious Bar — pulled directly from the mind of Roald Dahl himself.
Wonka Bars remained strong and saw them roll over into the Depp-led movie era, however, poor sales meant they were discontinued in 2010.
Flake Snow
Growing up, no trip to the ice cream van was complete without a '99' ice cream, smothered in raspberry ripple sauce and decorated with a chocolate flake. Cadbury ran with this idea for the Flake Snow.
A white chocolate version of the standard Flake was then coated in milk chocolate so this one could disguise itself as its classic cousin.
It was known as the Snowflake (clever) until 2003 and was eventually pulled in 2008. With the Cadbury Dream making something of a comeback, we're still holding out hope the Flake Snow will follow in its footsteps.
Polo Fruits
I clearly remember finishing a lesson at the local Victorian swimming baths and heading to the vending machine to pick up a pack of Polo Fruits. A world away from the generic mint version, Polo Fruits were a rainbow of delights.
Taking the classic Polo shape and making them out of fruit-flavoured boiled sweets was relatively simple, but it works. Although they didn't keep your breath as fresh as the standard Polos, they were so much better.
Other forgotten creations from yesteryear include the likes of Polo Gummies, Citris Shaarp, and Polo Holes (a plastic tub filled with the discarded middle bits).
Crunchie Bubbly
Nothing screams adulthood than tucking into a chocolate bar with a hint of champagne. Imagine strolling in p*ssed after a pre-teen night on the tiles and slurring to your mum you've had four Crunchie Bubbly bars.
Brought out to celebrate New Year's eve, it's no surprise the Crunchie Bubbly didn't stick around for long. As your parents rang in a new year with an actual glass of bubbly, there you were, sporting a chocolate-smeared face in the corner and saying "Cheers" to midnight.
This was around the time Cadbury treated us to a whole host of out-there Crunchie flavours. However, while Crunchie Tango and Crunchie Lemonade faded into obscurity, the sheer boasting power of Crunchie Bubbly has seen it stand the test of time.
Extra Thin Ice
Was it gum, was it a breath freshener, was it just an experiment gone wrong? No one really knows what Wrigley's Extra Thin Ice was, but those tiny sheets of minty 'stuff' were a popular sweet (is it even a sweet?).
Extra Thin Ice was launched back in 2002 with an impressive £5 million launch. The product was described as "24 micro-thin, inch-long translucent strips of peppermint candy."
It melted away to nothing before you could even close your mouth, begging the question of "What's the point?" That being said, we couldn't get enough of them.
[Featured Image: Rowntree's Cadbury, Hubba Bubba, Nestle, Vecteezy.com]