It's the Dundies reunion we always knew we needed as The Office favourites Steve Carell and John Krasinski have finally got back together for their own YouTube show. While they aren't in character as Michael Scott and Jim Halpert there's still plenty of Dunder Mifflin nostalgia to have us all feeling a little emotional,
Following the success of Rick Gervais' version of The Office in the UK, the idea was spun out into the wildly successful US version. Running for a whopping nine seasons and 201 episodes, The Office became one of the most successful comedies of the '00s. Since the series bowed out in 2013, there's been plenty of talk about a possible revival with the original cast. Sadly, nothing has come to pass (yet).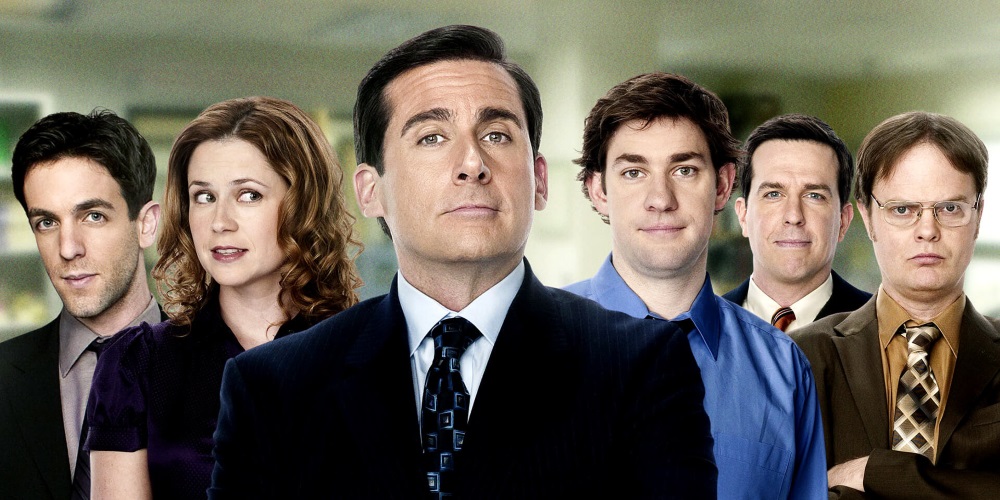 In the middle of all this coronavirus panic, Krasinski has launched Some Good News to brighten everyone's day. The A Quiet Place star said the idea is a follow up to his tweet (from last week) and asked followers and asked them to send him the lighter side of the news.
With Krasinski waging his own one-war war against the misery of COVID-19, he opened his mock news segment wearing a suit and tie, sat in front of an SGN sign that his daughters made. He explained, "For years now, I've been wondering, why is there not a news show dedicated entirely to good news? Well, desperately seeking my fix somewhere else, I reached out to all of you this week, asking — nay, begging — for some good news.
Alright everybody, how about #SomeGoodNews ! Send me the stories that have made you feel good this week or the things that just made you smile!

— John Krasinski (@johnkrasinski) March 25, 2020
"And boy, did you deliver. After reading those replies and the incredibly heartwarming stories that came with them, I thought, 'All right. Enough is enough, world. Why not us? Why not now?' So, ladies and gentleman, this is your fault, and this is SGN. I'm John Krasinski, and if it isn't clear yet, I have absolutely no idea what I'm doing."
He continued, "Without question, we are all going through an incredibly trying time, but through all the anxiety, all the confusion, all the isolation and all the Tiger King [Netflix's much-discussed new series], somehow the human spirit found a way to break through and blow us all away."
The highlight of the outing was definitely Carell's guest spot. Krasinski noted it's been 15 years since the premiere of The Office. Popping by for a video chat, Carell joked "I guarantee you that the bottom half of what you have on does not match the top" — referring to his suit and tie. The pair threw around some of their favourite moments working together and spoke about that long-awaited chance of a reunion.
Krasinki gushed, "Without a doubt. Listen I know everyone's talking about a reunion, hopefully one day, we just get to reunite as people. And just all get to say hi." Carell added, "Just to see your face is so great. I miss you a ton man". It's not exactly a no, but it's definitely not a yes.
Only recently Jenna Fischer and Angela Kinsey brought out their own Office podcast where they rewatched the entire thing. We hoped it would spark interest in a revival, but it's not here yet. Oh well, back to shuffling papers in my imaginary Dunder Mifflin for now.
[Featured Image: NBC]