It's that time of year we celebrate Cheesus Christ, and to be honest, I can't wait to crack open my cheese advent calendar. When you're bored of chomping through the same chalky chocolates, 2019 has a cornucopia of calendars to mix things up a bit. Sorry guys, this isn't one for the lactose intolerant.
While cheese advent calendars are nothing new, Morrisons is vying to be the Dairy Queen of Christmas with the return of the Ilchester Cheese calendar. The brainchild of food blogger Annem Hobson, the cheese calednar is back and bigger than ever. Available to buy for just £8, you get 24 doors of dairy delights.
These aren't just floppy slices of burger cheese though — it's a who's who of the cheese world. The full list includes: Jarlsberg® Medium Fat Hard Cheese, Applewood® Smoke Flavoured Cheddar Cheese, Mexicana® Cheddar Cheese with Mixed Peppers, Ilchester® Cheddar Cheese.
It doesn't end there though, there's also: Ilchester®, Red Leicester Cheese, Ilchester® Double Gloucester, Ilchester®, Wensleydale Cheese with Sweetened Dried Cranberries, Ilchester®, Wensleydale Cheese with Crystallised Ginger, Biscuit and Candied Orange Peel. Wow, I can feel my waistline expanding just by reading this!
The calendar needs to be refrigerated, but the handy book style means you can tear it in half and keep two lots of 12 cheeses in the fridge with ease. So far, the £8 Morrisons version is the cheapest we've found it, so you'd better grab it while you can.
Writing to her fans, Annem tells cheese fiends: "The last few years have been jam-packed with excitement! Thousands of you have supported the #CheeseNotChoc campaign and I am proud to say that together, since I invented my handmade prototype, we have created one of the bestselling Advent Calendars around the world.
"This Cheese Advent Calendar is special because of you. Your feedback helped my business idea come to life and this year we've added even more varieties of cheeses, as voted by you, and some of your cheesy jokes which you'll find behind the doors! I hope you love it as much as we loved making it. Merry Cheesemas! Love Annem x"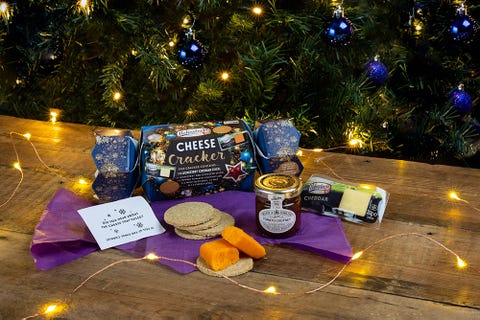 If calendars aren't your bag, Annem is also selling these new cheese crackers for just £3 in Sainsbury's. The 'cracking' price includes a stick of Ilchester Cheddar Cheese, one stick of Ilchester Red Leicester Cheese, five oatcakes, a jar of tangy Tiptree Tomato Chutney, a party hat, and the all-important cheese joke!
You can follow Annem's story on her So Wrong It's Nom site and see how her idea grew from a parmesan prototype to full-blown cheese calendar being stocked in some huge supermarkets.
[Featured Image: Morrisons/Apple]