Roll out the blue carpet because Vince Gilligan's Breaking Bad is celebrating a milestone birthday. It's hard to believe it's been 12 years since Bryan Cranston stepped out of an RV in a pair of Y-Fronts and into our lives. However, while Walter White is the de facto anti-villain of the piece, who could forget Anna Gunn's turn as Skyler White?
In a TV landscape that includes loathsome creatures like Joffrey Baratheon (Game of Thrones), Benjamin Linus (Lost), the Governor (The Walking Dead), and Marlo Stanfield (The Wire), it's a strange turn of events that the mild-mannered Mrs. White frequently tops lists of most-hated characters.
The Worst Of A Bad Bunch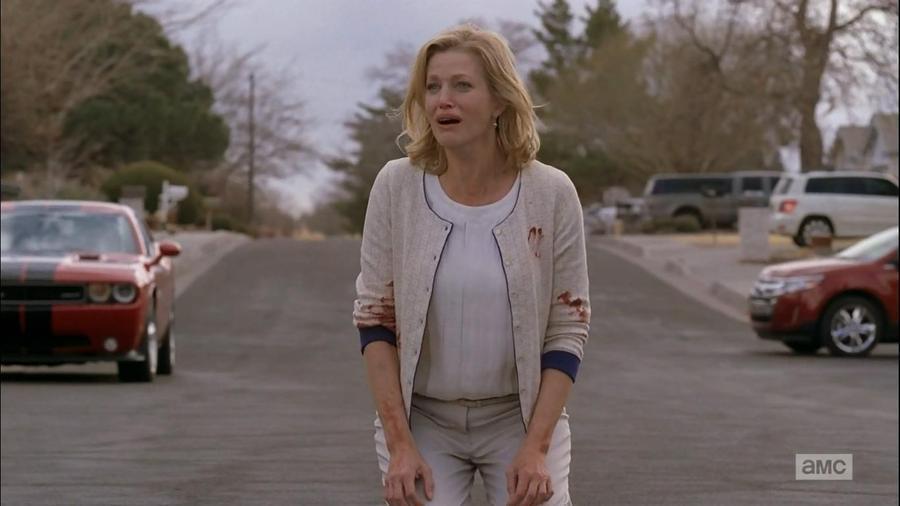 Within its own Breaking Bad universe, Gilligan created morally corrupt characters like Walt, Gustavo Fring, Tuco Salamanca, and Todd Alquist. Even the comedic and loveable Saul Goodman doesn't have a lot going for him in terms of people you'd take home to meet your mother. Still, Skyler is still held as one of the most-loathed TV characters of all time. But does she deserve it?
It's hard for many to place their finger on what they didn't like about Skyler, but for most, it was her evolution from nagging wife to full-blown meth empress. While Skyler was once the white knight of morality that tethered Walt to being a family man using drugs to provide a better future, her final seasons saw her become just as power-mad as her husband.
Back in 2013, Gunn penned her own controversial opinion piece for The New York Times and slammed her critics — probably not the best way to win round Skyler scorners. What came across was that Gunn seemed to conform to the hard-faced personality of Skyler. Who knows, maybe she'd spent too much time in the role?
Discussing Skyler's vilification, Gunn said, "At the end of the day, she hasn't been judged by the same set of standards as Walter."
"Because Skyler didn't conform to a comfortable ideal of the archetypical female, she had become a kind of Rorschach test for society, a measure of our attitudes toward gender."
She Was Written That Way
In a later interview with the Vulture, Gilligan backed Gunn's analysis and threw shade at "misogynist" viewers who simply didn't get her character. There's no denying the Breaking Bad world was ruled by the men, while Gilligan had an unfortunate knack for writing female characters as largely unlikeable.
Looking back all five seasons of the hit series, Skyler, Marie, and Lydia Rodarte-Quayle were often shown as inept, high-pitched, and whiny. Although Krysten Ritter's Jane had arguably the most substance, she had to be killed off in one of the show's greatest twists.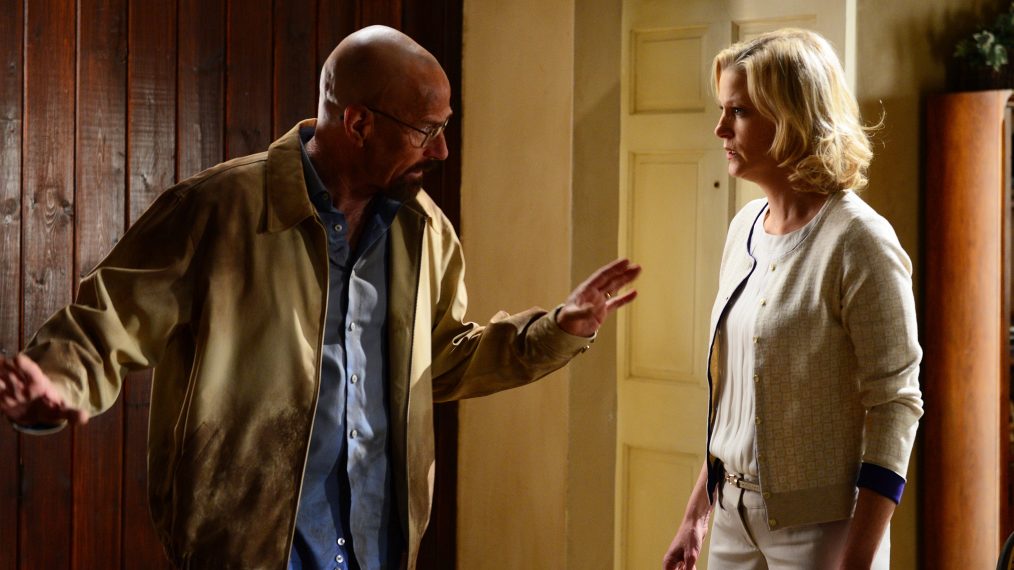 While Gilligan always intended Skyler to be "the voice of morality on the show", this jarred with her own sense of hypocrisy. Many have noted Skyler's view on the world and what's right or wrong (Marie's shoplifting), yet she takes this much further than doing a Winona Ryder in a local store. Lara C Stache is a feminist academic and author of Breaking Bad: A Cultural History, who thinks she understands one of Skyler's biggest flaws.
Stache explained, "Skyler seemed to see others' behaviours as black and white…and then takes it upon herself to tell people they are wrong. However, as her character undergoes a transformation, that initial moral black and white looks like hypocrisy rather than evolution."
Even when Skyler was having her child stolen by Walt in full Heisenberg mode, the damage had already been done. Instead of sympathising with a tormented wife who could be suffering Stockholm Syndrome at the hands of her drug lord husband, Skyler came across as complicit in deserving her just desserts.
With this in mind, it's no real surprise Gilligan kept her out of Netflix's El Camino: A Breaking Bad Movie. The acclaimed creator told Vulture it's because the long-awaited sequel needed to focus on Jesse Pinkman's story, but with a who's who of Breaking Bad alumni, it would've been so easy to sneak Skyler and Walt Jr. in for even a fleeting cameo.
The Women We Love To Hate
Unfortunately, Skyler slips into a modern mould of wives people love to hate. Over on The Walking Dead, AMC also struggled to make audiences like Sarah Wayne Callies' Lori Grimes. It was a recurring theme when Callies played Dr. Sara Tancredi on Prison Break.
Not that it's anything to do with Gunn or Callies' ability as actors, but something about their characters had people reaching for their remotes to switch off and keyboards to rant. Gilligan is undeniably a masterful writer, however, we should probably turn our attention to a 2012 Salon interview where Gunn claims he told her to play Skyler as unsympathetic.
By the time we get to the nitty-gritty of Breaking Bad's final season and the likes of Walt and Jesse have evolved into their final forms, Skyler was too far gone as a rabid fanbase continued to turn against her.
Portrayed as a cold and emotionless nag, there was little Gilligan, Gunn, or anyone else could do to redeem her. Even if Skyler had been the one to go down in a hail of bullets to rescue Jesse from Nazis, we'd probably still be having this conversation.
Despite female powerhouses like Carmela Soprano, Cersei Lannister, and Claire Underwood stepping out from the shadows of their partners, Skyler struggled to overcome the legacy of Walter White. This probably wasn't helped by Cranston's layered performance as the cancer-riddled chemistry teacher and crafting one of the most complex TV performances of all time.
Although it's definitely unfair to brand Skyler as the most-hated TV character of all time in terms of her actions and development, there's a strong case for her being the most-hated for general fan reaction. Does Skyler White deserve her bad rep? You decide?
[Featured Image: HBO/AMC]