Start the fans because you can officially design your own room for The Crystal Maze. Since 1990, The Crystal Maze has had us crawling, swinging, and solving through the likes of the Aztec, Industrial, and Futuristic Zones.
With Richard O'Brien and Richard Ayoade guiding us through the traps and tasks of The Crystal Maze, the nostalgic show has found a new lease of life on both Channel 4 and thanks to its public version you can actually pay to visit. Now, The Crystal Maze LIVE Experience is giving you a once in a lifetime opportunity to stamp your mark on the iconic labyrinth.
If you fancy yourself as a bit of a Crystal Maze architect and think, "I could do better than that", now you can. Simply head to the Crystal Maze games submission site and upload your grand plans. As well as picking which zone you see your conniving challenge sitting in, you also need to make sure it fits the brief.
While it sounds simple, it's not just a case of getting someone to swing over a moat to grab a crystal and get out before the timer hits zero. In fact, there's a handy list of tips and tricks:
A typical games room is between 10 and 40m2
The challenge must be possible to complete in under 3 mins by a single
person
Challenges can be physical, mental or skills-based – ideally it would
combine several of these elements.
Think about which zone your game would work best in: Aztec, Medieval,
Future or Industrial.
Don't forget that the team needs to be able to see the action – so think about where the windows should go
Ah yes, it's not quite the same unless your mates can gawp at you through the window and laugh at you being automatically locked in. The competition is run in conjunction with The Crystal Maze LIVE and will be judged by attraction founder, Tom Lionetti-Maguire, Product Director, Jon Crawley, and Digital Spy.
Crawley said, "This is the first time we've done anything like this – it is the ultimate opportunity to join the 30-year legacy of the Crystal Maze. We will be investing £10,000 in this project so we want entrants to be as imaginative and as elaborate as possible when it comes to their designs.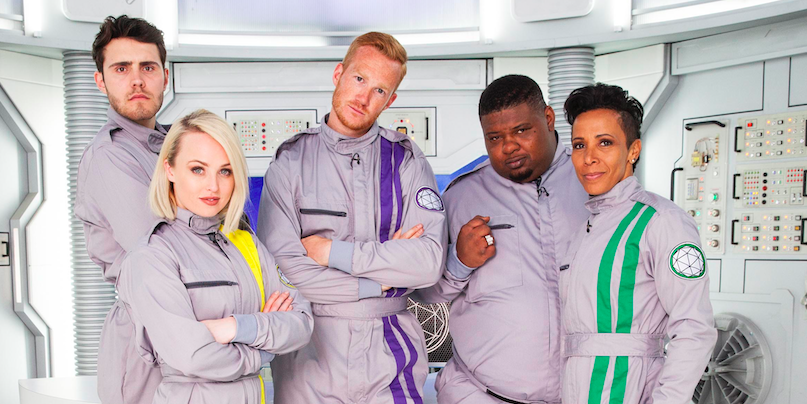 "Having worked closely with The Crystal Maze LIVE Experience since our launch in 2015, I understand the effort and technical challenges, but also the fun that goes into creating each game, so I cannot wait to see the ideas that get put forward!"
The winner will work closely with the creative team to come up with a name and bring their challenge to life at the London experience. You'd better get your thinking caps on though — entrants only have until January 31 to get their designs in, so you'd better be quick.
[Featured Image: Channel 4]