Here's one story that will have you running all the way to (or from) the bank. It's official, 2020 marks a milestone moment for the UK banking system as the overdraft charges and how we borrow from Mr. Monopoly are changing forever. Be warned though, this might not be a case of passing go and collecting £200.
You've probably all been there when money is a bit tight and you've dipped into your overdraft with the promise of paying it back ASAP, only for it to roll over into next month and incur those crafty charges.
As of this year, The Financial Conduct Authority (FCA) is clamping down on overdraft charges and making them more transparent for your average customer. On the surface of it, this looks like good news for the public as you'll no longer be charged per time you go overdrawn.
Speaking on the Martin Lewis Money Show, the man himself said: "The changes are happening right now. The problem with overdrafts is that they're a stealth debt. You don't apply for them, you just end up in them.
Lewis continued, "Right now everyone with a bank account needs to understand what's changing – good and bad. Back in 2005, banks would charge £35 a pop for going overdrawn. It would be £35 per transaction if you made seven transactions, you'd be charged seven times."
Emphasising the good news, Lewis explained, "Last July, the regulator said that from April 2020, banks will no longer be able to charge you a fine for going over your limit and occurring potential overdraft charges.
"That means that while they can still charge you what it costs them, they won't be able to impose daily penalty charges. It took 10 years, but we got a win."
What's The Catch?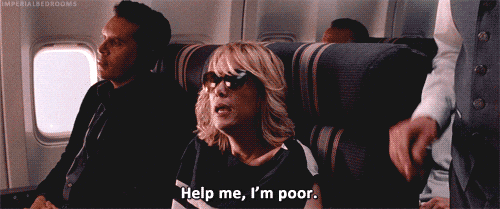 While no daily charges is a win, the banks are clawing back your cash in other ways. Basically, interest rates are set to go through the roof. This means most of the high street banks are hiking up their interest rates with some eye-watering increases.
Lewis went on to add, "For many, this will be a big eye opener. Yes, this makes it easier to compare what's on the market.
"But the changes were introduced to make the market more competitive – which hasn't worked. They're all charging the same at 39.9%. The straight fact is, if you're overdrawn in future, you're going to pay 40% interest on your overdraft."
Some of the biggest offenders are NatWest, RBS, HSBC, First Direct, and M&S Bank as they all head toward the seemingly standardised 40%.
The Solution
It's not all doom and gloom though. Lewis spoke to Connor from Hertfordshire — a construction site manager who graduated three years ago. Connor still has £1,000 to pay off and is worried nowhis 0% overdraft is about to run out.
Lewis told Connor, "First of all, so many graduates stick with what they have so I'm glad you asked. My instinct is to take your savings and pay it off. If an emergency happens you won't be worse off.
"There are 0% overdraft current accounts. First Direct pays you £100 for joining it, and then gives you a 0% overdraft up to £250. You pay off £650 and then we're back into 0% overdraft.
"Alternatively, Nationwide offers a 0% overdraft for a year but this depends on your credit score. They might give you £1,000 – but there's no upfront cash bonus.
"There's also the option for a money transfer card. This is 0%. These cards let you switch your debt onto an interest-free card. But it comes with a charge – on £1,000 there'll be a £30 fee. You then have up to 30 months to pay it off."
There are plenty of other options too. Both NatWest and RBS have interest-free overdrafts of £500 on offer for its Premier Reward Black and Reward Black customer. There is a monthly fee of £31, so you'll have to weigh up whether you're making a saving. Also, be warned these require a top-tier credit rating.
Elsewhere, First Direct and M&S are increasing their rates to 39.9% but both offer interest-free overdraft buffers of £250 and £100. TSB is only interest-free up to £35, but it's a great consolation for those who only occasionally dip into their overdraft for a small amount.
Nationwide gives FlexDirect customers 12 months interest-free from the moment they open their account and will reward you with 5% in interest on balances up to £2,500. You have to pay in at least £1,000 a month.
Away from the 39.9%, Starling Bank and Metro Bank have the lowest interest rates (currently sitting at 15%). Starling plans on increasing its rates on April 1 but will still steer clear of the 39.9%.
What's The Best Advice?
It sounds a little obvious, but the best advice is try to avoid getting into the red in the first place. It's easier said than done, but some savvy budgeting at the start of the month can save time and money later on.
Interest-free balance transfer cards can be a great way to shift debt and give you a set amount of time to pay it off without incurring interest. They rely on your credit rating, so aren't accessible to everyone, there's a one-off transfer free, and remember you'll still have to pay interest after the initial period runs out.
The likes of Tesco Bank, MBNA, and Virgin Money have some pretty decent interest-free periods and low interest rates. If you're thinking of ditching your high-interest bank in favour of something a little more cash-savvy, check out sites like Uswitch and Money.co.uk to see where you could save hundreds.
Most of all, don't panic. Anyone feeling really up to their eyeballs in confusing bank jargon should pick up the phone and speak to National Debtline or Step Change. Still, it's important to remember that money doesn't grow on trees!
[Featured Image: Halifax/Nickelodeon]